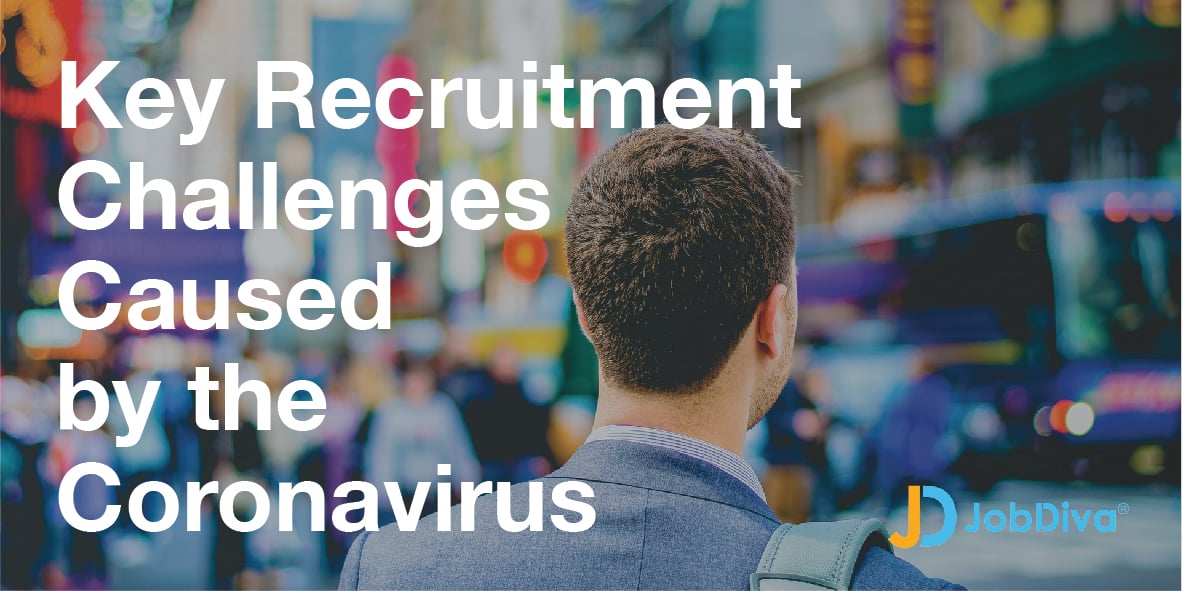 During an unprecedented global crisis, every industry faces unique challenges. Recruitment organizations have an exclusive connection with a plethora of industries as staffing needs fluctuate, and the past few months have brought about unparalleled instability. How can recruitment agencies best address the challenges caused by the Coronavirus?
In the content below, we explore six key recruitment challenges and how organizations can transform these hurdles into opportunities for long-term success.
1. Most Companies Are Not Hiring – in Fact, Many Are Firing
One of the most straightforward challenges facing the recruitment industry is a lack of need. Simply put, many companies are not hiring during this challenging time. Additionally, many of the top industries impacted by the Coronavirus are in turn letting go of staff. Such industries include travel and tourism, hotels, restaurants, entertainment, bars, manufacturing, and event planning.
According to Business Insider, the Coronavirus triggered unprecedented layoffs and furloughs, even among major companies.
Boeing responded by planning to cut 10% of its workforce by the end of April.
IBM elected to eliminate thousands of jobs.
Nearly 25% of Airbnb's workforce experienced layoffs by early May, totaling at 1,900 employees.
On April 4, the U.S. unemployment rate reached an all-time high, surpassing the 1975 record. The story is somber. However, the challenge is not insurmountable. In fact, the recruitment industry can turn this hindrance into an opportunity.
Some industries are laying off top talent. Recruiters can use this opportunity to get in front of promising professionals, helping them relocate to another opportune position. Although many employees still have jobs, nearly 25% fear for the safety of their positions and are looking for other opportunities.
2. Companies That Are Hiring Require a High Volume of Candidates
While industries impacted by the unanticipated global pandemic face mass layoffs, other industries are tackling an increased demand for staff. Extensive hiring can be seen among:
Grocery stores like Walmart and Target
Shipping and delivery companies such as Amazon and UPS
Online learning organizations
Remote communication agencies
Pharmacies
With such unique demand in select positions, recruiting agencies will have trouble meeting needs without a system in place to streamline the staffing process. Recruitment agencies may look into a top recruitment software to assist in hiring a large number of high quality candidates with limited time-to-hire.
3. There Is a Decline in the Number of Submitted Applications
Beyond unique staffing depressions and surges in certain industries, the number of applications has reduced across all industries. According to a study performed by WaveTrackR comparing February 2019 to February 2020, the number of applications reduced by nearly 50%.
Why? Simply put, people surrounded by instability and uncertainty are often hesitant to make significant life changes. Individuals may be hesitant to apply for a new job until a level of normalcy returns. Difficult positions to fill before the Coronavirus may seem impossible now.
However, because individuals are laying low and cautiously observing the situation, applicants may be easier to reach than before. Recruitment agencies could experience communication ease with people watchfully waiting at home, unsure of job security and looking for work.
4. If Your Recruitment Process Was Not Fully Digitized Before, It Must Be Now
The Coronavirus forced many industries to adapt to a remote work environment. Recruitment agencies are no different. If your recruitment process was not fully digitized before, it must be now.
Two primary processes should be considered:
Replace in-person interviews with video interviews.
According to 58% of talent acquisition professionals, the coronavirus will largely transform in-person interviews to virtual ones. Interviews are a significant step in the recruitment process – thus, ensuring that every member of the team understands how to perform a virtual interview effectively is critical.
Learn to onboard from home effectively.
Successfully integrating a new hire into a company is important, especially during a unique time of social distance and various stay-at-home measures. Effectively onboarding a new employee from home helps make an individual's experience in their new company productive and lasting, despite current circumstances.
Finally, consider your holistic staffing process. If your agency does not currently utilize an applicant tracking system (ATS), consider integrating the tool into your method. An ATS is designed to organize the entire recruitment process into a single system.
5. Long-Term Success Must Remain Prioritized
During challenging times, maintaining a long-term perspective can be difficult. However, leaders in the recruiting industry must consider beyond this period.
Maintain positive candidate experience.
Remember, the way candidates are treated now – even during a slow hiring season – will impact the long-term reputation of your organization.
Convey company culture to candidates.
Does your organization possess assets that convey company culture well? If not, it may be time to consider shooting a quick video or assembling an insightful slide deck. Without in-person meetings and interviews, conveying culture to potential candidates is difficult, and high-quality assets can make a lasting difference.
Eventually, the heat of the coronavirus will fade.
The recruitment industry must adapt to the likely aftermath of such a crisis. What will talent acquisition look like after coronavirus? A broad pool of talent, having lost jobs during the pandemic, will be drawn towards organizations with active outreach and reliable communication.
JobDiva: Consistent Recruitment Solution
At JobDiva, we offer top-performing recruiting software solutions that offer consistent results during unprecedented times. Our powerful recruiting solution is designed to streamline the recruiting process, from identifying qualified candidates to managing candidate information.
To learn more about our recruiting solution, request a free demonstration today!