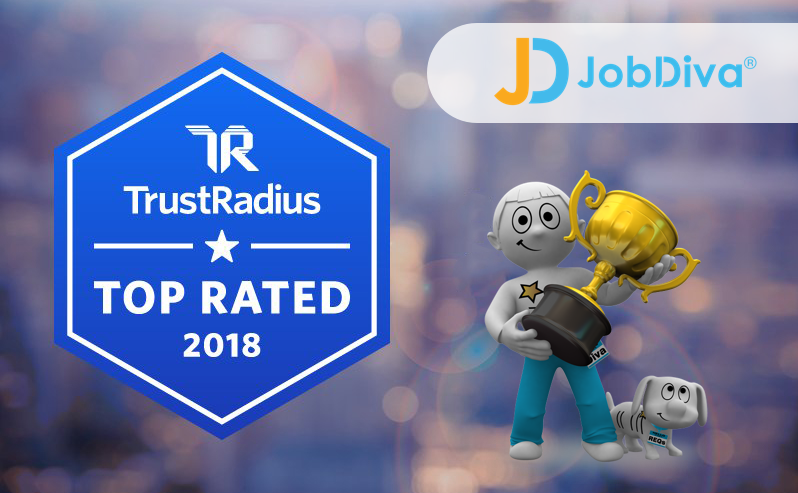 The Top Rated awards are here–User Reviewers have spoken. With near-unanimous user praise, JobDiva has received the 2018 Top Rated Recruiting Software award. Reflecting real customer preferences, this award stems from true business value, rather than recognition from analysts and critics.
Indeed, the TrustRadius Top Rated awards are unique in being given based on customer sentiment and satisfaction alone. To earn a Top Rated badge for Recruiting Software, a product must be in the top tier of its category and have amassed 30 or more reviews and ratings. Every reviewer is verified—and every review is vetted—before publication, in order to ensure buyers can make the smartest possible decisions.
According to their reviews, JobDiva's authenticated users enjoy unmatched speed, precision and adaptability, which have helped unlock growth opportunities in a complex market. Easy navigation, a user-friendly interface and the robust search functionality are commonly cited highlights across JobDiva's 157 reviews and ratings. Read on to see what users had to say.
"JobDiva helps our organisation a lot in connecting easily to the correct matched candidates according to the required skills for the client's demand. The best part is you can put down the skillset directly and contact multiple candidate at a glance by Email- Merge. The beautiful part is it automatically keeps on recommending you the correct matched candidates for the selective roles by harvesting it for us. JobDiva helps us with submission and selection of the right match; that is why it is being used by our organization on all levels from top management to payroll staffs."
– Technical Recruiter, Human Resources | Read the full review
"We use JobDiva every day to review clients accounts, enter notes and discussions everyday, email them, update information, submit them to potential jobs across the U.S. and follow up with our clients during the entire staffing process. JobDiva is very important tool within our company & it makes the process much simpler than it used to be before we acquired this software."
– Nurse Recruiter, Staffing and Recruiting | Read the full review
"ICS uses JobDiva as our ATS- it is an extremely easy-to-use platform that makes sourcing, scheduling interviews, and scheduling start dates a breeze. The user interface is extremely easy to navigate and understand. The search feature is pretty robust, and the results are easy to sift through. I would definitely recommend JobDiva for use by other staffing agencies."
– IT Recruiter, Information Technology and Services | Read the full review
"JobDiva is the top recruiting tool and it is used across the whole organization and it is helpful too. Easy to track reports, easy to understand on performance and where we stand. Resume harvesting is the biggest asset in JobDiva. For now, JobDiva is working perfectly. And I recommended it to my colleagues too."
– Recruitment Specialist, Staffing and Recruiting | Read the full review
To learn more, read this guide on how TrustRadius Top Rated works.