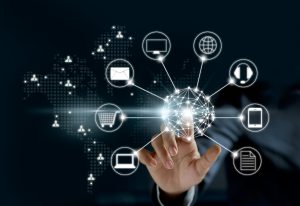 Updated, July 2019: Since we initially published this post, digitalization has become a bigger and bigger factor in recruiter and hiring organization power.
We recommend that organizations interested in digitalization seek technology that prioritizes recruiter success and effectiveness. Simply digitizing is not enough. Many organizations digitize. They are still hobbled by poor use of the data they've acquired. Digital technology must be built to help you innovate. Innovation means using data in smart, efficient ways.
In other words, digital alone is insufficient. You need technology that makes sense of the data that the digital age provides. As evidenced by JobDiva's recent awards—such as being named a FrontRunner by Software Advice for the second consecutive year—JobDiva is exactly that technology.
Recruiter success will be an important factor going forward in 2019. Data is useful. But how does your technology help you use it?
IT recruiting professionals have a saying: the only constant in tech recruiting is change. Each year's labor market has different dynamics, which means that IT recruiters—candidates and employers, too—must be up-to-date on market realities. This year, recruiters and employers are up against a tighter labor marketand falling unemployment. Read on to learn about the top three trends in IT jobs.
It's a Recruiter's Market – When it comes to IT jobs, 2017 looks like a recruiter's market. Because companies are having trouble finding skilled individuals, a recruiter with a strong lead can easily fill a requisition with a serious and experienced candidate. The question is: how does one find such a candidate? That's what JobDiva, an Applicant Tracking Software (ATS) in a class entirely its own, does with such fearsome efficiency. By accelerating the candidate search and jumpstarting the recruiting lifecycle, it helps you stay ahead of the competition, making it, truly, the ATS for 2017 and beyond.
Expand Your Candidate Search – Because demand will be so high in 2017, competition will be rather hot. That means you need to stay ahead and look, beyond LinkedIn and Monster, to new talent sources. Staying competitive requires innovative thinking, and no ATS is as relentlessly innovative as JobDiva. Using patented technology, JobDiva will help you widen your net and find the candidates other IT recruiters miss. 2017, meet JobDiva. It's time to let innovation take the reins.
Stress Work-Life Balance to Candidates – As independent contracting becomes ever-more embedded in our job economy—particularly when it comes to IT jobs—tech employees have become more concerned about maintaining work-life balance. This means that when doing IT recruiting, it's important to stress to candidates that an employer's company culture will be fulfilling. And the better your clients are to your candidates, the longer-term position will be, leading to higher dividends for you. JobDiva's CRM system makes it simple to manage client relations and keep track of which clients have which types of company cultures, so that you can be confident you're placing your candidates in IT jobs that will keep them feeling happy and balanced.