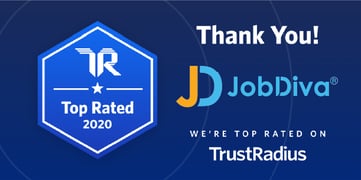 JobDiva has been awarded "Top Rated" in the Applicant Tracking category by TrustRadius for 2020. What does this award mean, practically speaking? Let's explore.
An Award Based on User Data and Results
The TrustRadius Top Rated award is chosen by "customers, not by an ivory tower analyst," TrustRadius says. "The metrics that drive Top Rated (recency, relevancy and rating) reflect what […] customers care about—not the latest hype that an analyst is pushing."
"Buyers know it has to be earned," TrustRadius says of this powerful award. The value of the technology must be demonstrated and proved by auditable, clear results.
JobDiva—Top Rated in Applicant Tracking
At this unprecedented time, staffing enterprises are focusing on factors they can control—the technology they utilize; the speed at which they recruit; the communications tools they use to attract talent and win clients. When optimizing for those factors that respond to business decision-making, technology is key.
If it wasn't clear already, with this Top Rated award it's undeniable: JobDiva stands strong as the better choice for staffing platforms.
Join the high performers and industry leaders who are already using JobDiva. Request your free demonstration below.