Updated, July 2019: JobDiva has now been named a 2019 FrontRunner for Applicant Tracking. JobDiva is tremendously honored to have been named a FrontRunner for the second consecutive year, cementing JobDiva's place at the leading edge of digital Talent Acquisition technology.
As faster hiring becomes a major priority for HR and recruiting organizations, they should seek out technology that helps Talent Acquisition professionals be the best they can be. JobDiva has made advancements in recruiter speed, power and engagement that cannot be paralleled. Join the future and request a demonstration of JobDiva today.
Software Advice's Frontrunners Report is in. It's powered by Gartner Technology. It's definitive for staffing technology in 2018. And it ranks JobDiva as the top "Pacesetter" in the industry.
JobDiva—the ATS Pacesetter. What does that mean?
Software Advice is a trusted source for user ratings, reviews and expert opinions.
Each year, Software Advice's team studies the top Applicant Tracking Software in the industry and, after evaluating them, produces a Frontrunners Report. The Frontrunners Report is what it sounds like: a report on the ATSes who lead the pack. Those who are forging a future for the staffing industry. Those on whom customers rely and in whom they believe.
And the Frontrunner nominations are data-driven. No "expert opinion" can sway these results. For this Report, it's user reviews that count.
For 2018's Report, JobDiva—the leading global Applicant Tracking, Talent Management and Customer Relations Software—has been named a Pacesetter. A Pacesetter's functionalities and recruiting solutions are leading the way.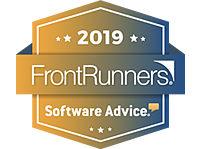 They are creating new possibilities for recruiters. They are beloved by early adopters. They are high-value, and their solutions are easy to learn.
Most of all, they give their users the tools to stay competitive. And not only stay competitive, but leap forward. New directions, new heights—JobDiva.
Pacesetters are innovators who set the standard for Applicant Tracking Software. Users of Pacesetters get the advantage of new tech before their competitors. Which gives them a razor-sharp edge in a crowded market.
"We at JobDiva are pleased to be named a Pacesetter for 2018," said Yana Nigen, JobDiva's Chief Marketing Officer. "At JobDiva, we do not innovate for its own sake. Rather, JobDiva is committed to helping our clients achieve their potential, and innovation is the surest route toward that goal."
Why does this matter?
The Frontrunners Report is special. It does not stem from analysts' opinions, which are subjective by nature. Rather, it stems from objective data, such as how much real users profit from ATSes.
This means that the Frontrunners Report is a great resource for staffing organizations. Why? Staffing companies should have the most exciting ATSes on their radar. The FrontRunners report is that radar.
Staffing leaders must pay close attention to trends in the ATS sphere. Of course. But if they have technology that is the trend, they don't have to do so. They can trust their tech solutions to innovate.
As a Pacesetter, JobDiva proudly leads the pack. JobDiva's solutions have been recognized as leaders by one of the Internet's top resource for software reviews. This much is clear—the ATS space has entered a new age. The JobDiva Age.
To explore JobDiva's software solutions, request a demonstration today.