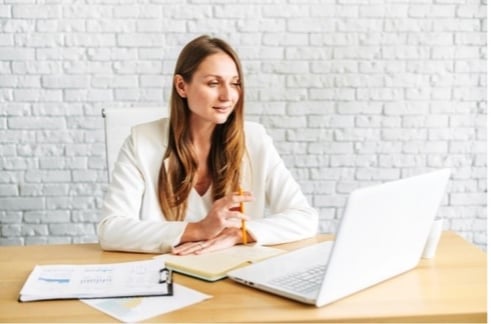 Since the beginning of last year, a plethora of companies has experienced significant, business-altering change. Many small businesses closed their doors. Some have re-opened with updated policies and strategic business-growth strategies – others have closed for good.
The recruitment sphere is no different. 2020 was difficult (to put it mildly) for many recruitment agencies, especially as face-to-face communication morphed into digital interaction. In 2021, we don't expect this change to disappear.
However, an understanding of upcoming e-recruitment trends can help recruitment agencies prepare for and adjust to changes with ease. In the content below, we explore how last year's changes will continue influencing the digital recruitment trends and goals.
Top Recruiting Priorities for 2021
For many recruitment agencies, the three most crucial and commonly held recruiting priorities have not changed in years. Quality-of-hire, retention rates, and time-to-hire have always been important.
Improving Quality-of-Hire – the reliability, quality, and trustworthiness of recruits is always a priority for recruitment agencies. Additionally, the candidate must be an excellent fit for the company he or she is joining.
Improving Retention Rates – often, quality-of-hire will correlate to retention rates. If the candidate is an excellent fit, retention should be heightened.
Improving the Time-To-Hire – time-to-hire refers to the time it takes to finalize the connection between candidate and company. Speed, combined with quality-of-hire, is an admirable recruitment goal.
Though these primary goals are likely static, they should be influenced by the recruiting trends we expect to see in 2021. We dive into each e-recruitment trend below.
Digital Recruitment Trends to Watch
2021 is sure to be an interesting year, but here are the recruiting trends you'll need to stay aware of to ensure your hiring efforts' success.
#1: Virtual Hiring is Not Going Away
Many recruitment agencies performed video interviews or digital assessments on occasion if the situation required these measures. However, for many agencies, the process was less-than-polished and uncommon. COVID-19 brought about a significant shift in virtual recruitment processes. For the first time, remote interviews and assessments were required, forcing agencies to optimize their virtual recruitment methods from beginning to end.
The enforced remote communication of COVID-19 proved to many organizations that remote hiring could be cost-effective and time-effective, meeting time-to-hire goals. According to LinkedIn Insights, 81% of talent professionals agree that virtual recruiting will continue post-COVID, and 70% claim it will become a new standard.
Moving forward, your recruitment agency must determine when they will employ virtual vs in-human processes. Though e-recruitment may define the future, many individuals are longing for "normal" life, including face-to-face conversation. Thus, wisely incorporate personable elements into your recruitment process whenever able.
#2: Internal Hiring and Mobility Will Increase
Upskilling is on the rise, helping staffing firms and employers fulfill hard-to-fill positions. 2020 left millions of individuals unemployed. However, many open positions require unique skillsets that are simply difficult to identify. Upskilling helps fill this gap.
In essence, upskilling is the process of learning new skills that may be needed in a future position. While some businesses claim that the responsibility of learning new skills rests on the employee, others carry the torch of continued education, training current, promising employees to accept hard-to-fill positions in the future.
Recruitment agencies can do the same thing. Staffing agencies can identify promising, hard-working individuals from a variety of industries who may show an aptitude to be trained to fulfill specific job openings – even openings that diverge slightly from past experience.
#3: The Creation and Maintenance of Talent Pools Will be Crucial
Able candidates are hunting for jobs. As a staffing agency, being present in talent pools is the first step in engaging with individuals who are ready to begin the hiring process. Though posting job openings can be time-consuming, tools are readily available to mediate this process for agencies. Some recruitment programs organize and post position openings across multiple job boards and social media platforms for the staffing company.
Regardless of how your company does it, creating and maintaining an influential presence in talent pools will be crucial in successfully filling job openings.
#4: More Recruiters are Embracing Candidate Relationship Management Programs
As digital recruitment processes have overtaken the staffing industry, candidate relationship management programs – also referred to as applicant tracking systems – are ever important. Candidate relationship management programs organize each recruitment process, including interview notes and submitted documents, in a single interface. When looking for an ideal program for your organization, asking a few important questions will weed out the best systems from the worst.
Post-COVID Industries on the Rise
The COVID-19 pandemic, along with e-recruitment and workforce trends, has driven a few industries to hiring prominence. We've listed five of these industries below:
Frontline Ecommerce Workers

Loan & Mortgage Experts

Nurses & Health Care Support Staff

Business Development & Sales Professionals

Digital Marketing Professionals
JobDiva: World's Top Recruiting and Staffing Software
At JobDiva, we strive to be in front of recruitment trends, ever innovating our recruiting software to meet every staffing need. Our software is holistic, with CRM, ATS, back-office, and VMS synchronization capabilities, housed within a single platform.
The CRM component connects you to candidates, clients, and supplies, while the ATS functionality manages every step of the hiring process. The back-office process is intuitive and all-encompassing. Finally, VMS Synchronization utilized requisition management AI to increase response time.
Best of all, the software is user-friendly and intuitive. Interested in a software demonstration? Complete our demo form or give us a call to request a free demonstration. We are always quick to respond and eager to start a conversation!