How Does Applicant Management Software Work?
Applicant Management Software (AMS), also known as Applicant Tracking Software, helps recruiters and other hiring professionals find, track and manage available candidates for open roles. Often, AMS systems are used for staffing suppliers and managers who compete to find talent for contract roles.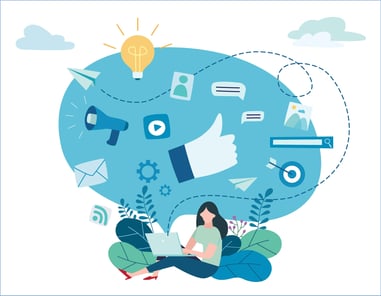 5 Signs Your Company Should Invest in AMS:
Your hiring process could be made faster and more efficient

. You have noticed gaps in your hiring or recruiting process

due to

a lack

of

order, such as delays between finding resumes and qualifying candidates.

Your career page could be refreshed to appear sleeker and more modern

. Often, the career page is the first glimpse that candidates have of your organization. It's important to maximize that first impression, always showcase jobs that are current

and stand out as a brand.

You feel the need to find the best-fit talent in less time

. You're looking to find qualified talent in record time, helping you improve, quality, speed and sales.

Your current recruiting process uses a limited pool oftalent to fill jobs.

You want to recruit from a larger talent pool, in which you

invested

and qualified, and

your

current

sourcing

process starts

from

scratch on every new req.

You want to improve the organizing & tracking of candidate data.

You seem to be missing

structured workflows for

a

larger

volume or requirements in a competitive space. Powerful AMS can help with that.
Not Every Applicant Management Software is Created Equal
Great applicant management software should...
Automate repetitive administrative tasks:

Your AMS should

save you time by

performing manual tasks for you, such as data entry.

Deliver a smooth, well-managed, & scalable recruiting process: Your AMS should also close those gaps in your recruiting process, upping efficiency.

Track successful candidate sources: A

great AMS will allow you to analyze and track candidate sources, such as job boards, so that you can use information and data to help drive recruiting.

Utilize the latest smart technology: Lastly, a great AMS will equip you with the most advanced, adaptive technology on the market. New enhancements and uniquely powerful products will give you an advantage over competitors.
JobDiva: Next-Generation Applicant Management Software
For AMS that fulfills all of the above, there is only one answer. JobDiva is the better choice for staffing technology, consisting of the most advanced end-to-end tech on the market.
Recruiters gain speed, accuracy and power. Candidates feel engaged and cared for, with tools like remote interviewing and in-app texting. Enterprises grow at scale.
Request your free demonstration of JobDiva today.